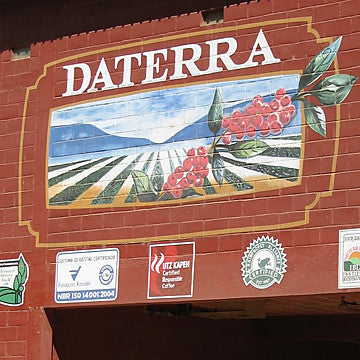 Brazil Sweet Blue
Sweet Blue is a special coffee, hard to come by, but we've secured a decent lot for this year. Daterra Farms, located in Brazil's Minas Gerais region, is an outstanding example of sustainability and social responsibility: 50% of its area has been designated as Natural Preservation Areas and they educate the local communities in sound environmental practices. They also provide profit sharing, transportation, health care and child care for their workers.
Daterra Farms is Rainforest Alliance Certified™.

Cup characteristics: according to Daterra's description of this coffee, "It tastes like an elegant and spicy chocolate bar." Indeed, It is rich in chocolate and dry-cocoa flavors and aromas. Dense body, balanced acidity and sweetness, and a long and lingering chocolate-espresso aftertaste.
Whole bean, 100% Arabica
Roast level: Medium
Recommended brew method: Aeropress, pour over, auto-drip, French press. Can be brewed as single-origin espresso.