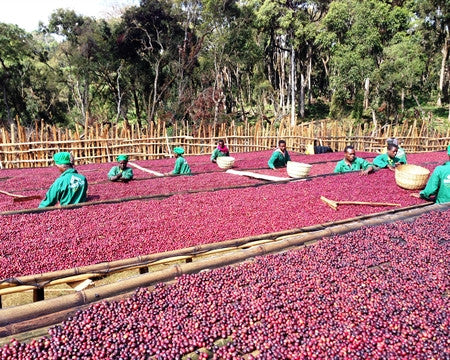 Ethiopia Hambela Special Prep
This outstanding coffee is a special hand-prepared lot from the family-owned Hambela Estate in the Oromia Region of southern Ethiopia. After harvesting the whole fruit is dried in the sun for 3 weeks, then processed and dried.
In addition to producing top grade coffee, the farm has a workforce that is 70% women and they sponsor a state of the art elementary school in the community and provide health care for their workers.
When we roasted the first sample of this coffee what impressed us most was the power of the aromatics coming out of the jar... super intense floral and fruit aromas. In the cup, it continues the promise of the whole bean aroma, with berries, melon, wine, sweet chocolate, jammy fruits, vanilla. It has a nice medium body and a very long and complex aftertaste.
Whole bean, 100% Arabica
Roast level: Medium
Recommended brew method: Aeropress, pour over, auto-drip, French press. Works as a single origin espresso, too.