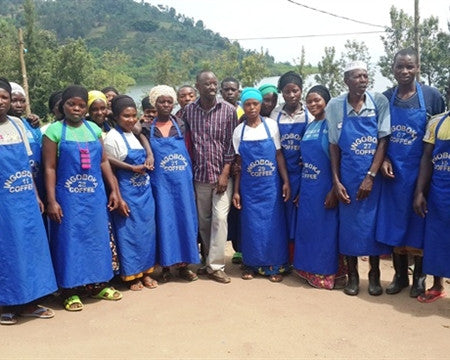 Rwanda Kivu Lake
Rwanda Kivu Lake Bourbon is sourced from family-owned farms organized around the INGOBOKA Cooperative located near the shores of Kivu Lake, one of the African Great Lakes, in the Rutsiro district of Rwanda. INGOBOKA was established in 2004 and currently has 135 members, 47 of whom are women. INGOBOKA maintains a children's school fund to assist members with education expenses, and a health insurance program to improve access to medical care.

The coffee is grown at extremely high elevations - 5200 to 6500 feet above sea level. High altitude coffees take longer to ripen, which results in more complex flavors, aromas and sweetness. That principle clearly holds true in this delicious coffee.
Cup characteristics: Tart cherry, acidity, with a floral finish, abundant chocolate, sweet vanilla. It's a really nice coffee for all occasions.
Whole bean, 100% Arabica
Roast level: Rich Medium
Recommended brew method: Aeropress, pour over, auto-drip, French press. Can be brewed as single-origin espresso.